Laurence M. Epstein, MD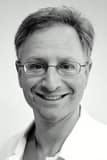 Dr. Laurence M. Epstein is chief of the Cardiac Arrhythmia Service, director of the Electrophysiology Laboratory and a cardiovascular medicine specialist at Brigham and Women's Hospital (BWH). In addition, he is a professor of medicine at Harvard Medical School (HMS).
Dr. Epstein received his medical degree from the University of Chicago, Pritzker School of Medicine. He completed an internal medicine residency at University of California San Francisco Medical Center (UCSF) and a cardiology fellowship at the Hospital of the University of Pennsylvania. He then completed a clinical fellowship and a research fellowship in cardiac electrophysiology at UCSF. Dr. Epstein is board certified in internal medicine and cardiovascular disease, as well as cardiac electrophysiology.
The author of over 100 peer-reviewed publications, Dr. Epstein's clinical and research interests include pathophysiology and treatment of a variety of cardiac arrhythmias. This has included device therapy, catheter ablation, and image guided therapy. He is considered one of the world's experts in transvenous lead management and extraction. He has been listed as one of America's Top Doctors by Castle Connolly and named a top cardiac electrophysiologist by Boston Magazine.
---