Shahryar Kavoussi, MD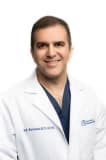 Dr. Kavoussi is Board certified in Reproductive Endocrinology and Infertility by the American Board of Obstetrics and Gynecology. He received his Fellowship training in Reproductive Endocrinology and Infertility at the University of Michigan. Prior to this he completed his residency program in obstetrics and gynecology at the University of Texas Health Science Center at San Antonio, Tx.
Dr. Kavoussi remains active in both clinical and basic science research. He has authored peer-reviewed articles in leading journals such as Fertility & Sterility. Dr. Kavoussi has a special interest in treating In vitro fertilization, ovulation induction/intrauterine insemination, da Vinci robot-assisted tubal reversals/myomectomies, polycystic ovary syndrome and endometriosis.
---