William G. Stevenson, MD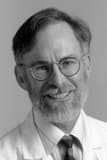 Dr. William Gregory Stevenson is director of the Cardiac Arrhythmia Program at Brigham and Women's Hospital. A cardiovascular medicine specialist, he is also a professor of medicine at Harvard Medical School.
Dr. Stevenson received his medical degree from Tulane University School of Medicine. He completed his internal medicine residency and cardiology fellowship at University of California, Los Angeles Center for the Health Sciences as well as a fellowship in cardiac electrophysiology at the University of Limburg, Maastricht (now Maastrict University) in The Netherlands. Dr. Stevenson is board certified in internal medicine, cardiovascular disease and cardiac electrophysiology.
His clinical interests include diagnosis and treatment of cardiac arrhythmias with a particular focus on the use of catheter ablation to treat ventricular tachycardia, atrial fibrillation, and supraventricular tachycardias. With a clinical practice focusing on difficult to manage arrhythmias, Boston Magazine named him a top cardiologist. His research focuses on defining the pathophysiology of arrhythmias and developing novel methods for mapping and ablation. He has authored over 400 publications and received research funding from the American College of Cardiology, American Heart Association and Heart Rhythm Society.
---